LUNCH & DINNER MENU
Steaks & Ribs
All of our steaks are fresh, AAA Alberta beef, aged for a minimum of 30 days & seasoned with our house-made steak spice
Filet Mignon 7oz
42
Centre Cut New York Striploin 10oz
42
Ontario Flat Iron 7oz
30
Top Sirloin 8oz
32
Wagyu Bavette 7oz
36
Ribeye 12oz
42
All steaks served with garlic mashed potatoes & sauteed vegetables
Quinn's Prime Rib 10oz
38
Quinn's Prime Rib 14oz
45
Fresh, AAA Alberta beef aged a minimum 28 days and slow roasted. While it lasts. Served with roasted garlic mashed potatoes, fresh vegetables beef au jus and Quinn's horseradish.
Baby Back Pork Ribs – Full
34
Barbecue Chicken & Ribs
35
In-house smoked ribs with house-made barbecue sauce, served with French fries & creamy coleslaw
Sides & Add Ons
Dubliner Cheddar & Bacon Loaded Baked Potato
8
Salt Baked Russet Potato
6
Grilled Fresh Asparagus
12
Brown Butter Fried Mushrooms
9
Buttermilk Shoestring Onions
8
Brussel Sprouts with Pancetta
11
Blue Crab and Béarnaise Sauce
9
2 Gingers Whiskey Peppercorn Sauce
6
Café de Paris Butter
6
Chipotle Butter
6
Cashel Blue Cheese Butter
9
Garlic Broiled Black Tiger Shrimp (4)
11
Broiled Nova Scotia Lobster Tail (4oz)
18
Roasted Bone Marrow
10
Appetizers
Quinn's Escargot
13
Burgundy escargot, baked in mushroom caps, with garlic herb butter
Crispy Fried Seafood
20
Tiger shrimp, scallops, calamari, caperberries, served with remoulade & chili sauce
Tuna Tataki
18
Rare Albacore tuna, served with cucumber, pickled ginger, wasabi vinaigrette
Smoked Salmon on Irish Soda Bread
18
Lemon dill cream cheese, red onions, capers, on house-made Irish soda bread
Charcuterie & Cheese Board
21
Local artisanal cured meats & cheeses, served with cornichons, triple crunch mustard
Prawn Martini
17
Six black tiger shrimp, served with house-made cocktail sauce & a lemon wedge
Daily Soup
8
Made fresh in-house
Goat Cheese Salad
16
Ontario goat cheese, arugula, heirloom beets, drizzled with balsamic honey vinaigrette
Caesar Salad
11
Romaine hearts, smoked bacon, parmesan, sourdough croutons, tossed in Caesar dressing
Baby Greens Salad
10
Topped with sun dried cranberries, sweet peppers, grape tomatoes, sunflower seeds & chickpeas. Tossed in balsamic honey vinaigrette
Bowls
Cobb Bowl

21
Mixed greens, topped with grilled halal chicken breast, avocado, bacon, blue cheese, egg, ranch dressing on the side
Pacific Power Bowl

25
Grilled salmon, served on brown rice, edamame, green onion, cucumber, smashed avocado, daikon carrot pickles, sesame miso dressing
Burrito Power Bowl

21
Grilled halal chicken breast, served on quinoa, guacamole, tomatoes, cilantro, frijoles, pimento, maiz tostado, Oaxacan crema dressing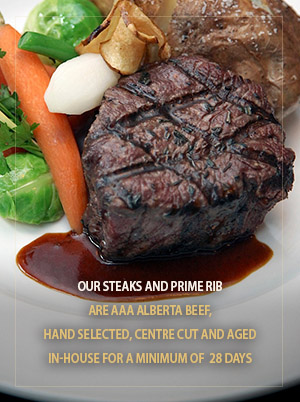 Handhelds
Beyond Meat Burger
20
Plant based burger on a brioche bun, with lettuce, tomato, onion & pickle. Served with French fries.
- Add vegan cheese, mushrooms, or fried onions $2 each
Quinn's Burger
23
8oz AAA Alberta prime rib, made in-house, topped with Berkshire bacon, Dubliner cheddar. Served on a brioche bun with French fries
Crispy Chicken Sandwich
19
Crispy-fried chicken breast on a brioche bun, with coleslaw, pickle, spicy honey, served with French fries
Steak Sandwich
20
6oz AAA Alberta NY Striploin with sauteed mushrooms, onions on a garlic ciabatta bun & served with French fries
Entrees
Steak & Shrimp
42
8oz AAA Alberta, centre cut top sirloin, 4 garlic black tiger shrimp. Served with sauteed vegetables & garlic mashed potatoes
Peppercorn Crusted NY Steak
45
12oz AAA Alberta, centre cut striploin, aged 28 days, brandy cream sauce. Served with sauteed vegetables & garlic mashed potatoes
Steak Frites
29
8oz AAA Alberta, centre cut top sirloin, with your choice of café de Paris or chipotle butter. Served with French fries & lemon aioli
Guinness Braised Lamb Shank
30
Served with a roasted root vegetable barley risotto
Fresh Organic Clare Island Salmon
32
Roast fingerling potatoes, asparagus, & lemon butter
Roasted Goat Cheese Portobello Mushroom Pasta
24
Penne pasta, tossed with Tuscan semi-dried tomatoes & arugula walnut pesto
Roasted Halal Chicken Supreme
30
Herb jus, fingerling potatoes, seasonal vegetables
Lobster Mac 'n' Cheese
28
Nova Scotia lobster, Fontina & Dubliner cheddar cheeses, dry vermouth, & cream